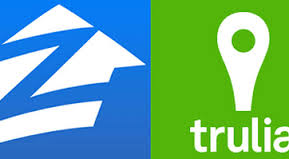 I recently came across an opinion on the investing site, Seeking Alpha, that touted Zillow stock as undervalued and it got me thinking.
The writer believes that Zillow's recent acquisition of Trulia puts it in position to capture the majority of online advertising growth for real estate.  Since real estate advertising is a huge market, Zillow has potential for huge growth.  While I do not dispute that the potential is there, I doubt that Zillow will execute to deliver those results.
For context, the Trulia acquisition basically made Zillow the only real player in the real estate online advertising industry.  (Specifically, I consider what Zillow offers Realtors is advertising and not actual marketing.)  Trulia had itself just acquired MarketLeader, which in turn had acquired ActiveRain and RealEstate.com.  (See my post here.)  In effect, buying Zillow stock meant you were betting on the entire industry, just like buying Tesla stock would be for the electric car industry.  For some investors, that convenience justified a premium for the leading company, just like Cisco during the late 90s Internet boom and Apple with the current niche industries it created.
So, just like Cisco's stock outperformed in 1999 in anticipation of its industry dominance, the reality often fails to live up to the hope.  That is what concerns me about Zillow.  When Zillow acquired Trulia for $3.5B in stock, it joined two powerhouse companies, each with its own successful culture and business model.  Trulia in particular had built a fiercely loyal and protective following amongst the Realtor community with a system that rewarded valued contributions with customer visibility.  It was a beautiful crowd-sourcing content model that allowed Trulia to grow quickly while building the businesses of the supporting Realtors.  On the other hand, Zillow had benefited from a first-mover advantage and did not need the support of Realtors to generate clicks.  Instead, Zillow was more focused on monetizing those clicks than continuing to build relationships with the Realtor community.
With such differing approaches, there were two options for the Zillow-Trulia acquisition: dump one and lump all the remaining eyeballs together or keep both and continue to grow with different audiences.  At the Zillow leadership, the first and more conventional option was selected.  As a result, all the dedicated Realtors, who had spent countless hours crafting a brand for themselves with consumer-friendly blogs and earnestly answering millions of consumer questions, found themselves unceremoniously dumped to the side, with blogs and answers deleted without notice.  These Realtors were immediately bombarded by the Zillow sales force to sign one of many pricey advertising packages to retain any semblance of relevance.  Of course, none of these packages offered any brand or marketing value.  At the same time, consumers were left in a lurch as the seasoned and detailed feedback from actual Realtors were replaced by pointless and irrelevant postings by Zillow staffers.
To me, such a slash and burn approach seemed more like 2 + 2 = 2.  Hence, Zillow's stock has been on a straight downward trajectory since the bump from the Trulia acquisition announcement.  While Zillow might continue to grow from 3 to 4 as the defacto industry player, its long-term profitability is still in doubt.  Whether Zillow admits it or not, it has had the good fortune of operating during one of the best housing market environments that most people can recall, even including the last boom from just 8 years ago.  Yet, Zillow has consistently lost money for the past 10 quarters, only surviving on continued sales of its high priced stock.  Perhaps the massive consolidation of the real estate marketing industry is just a high price to pay for future industry dominance, but I just do not see how Zillow can ever grow into its sky-high valuations.  (Without going too deep into stock analysis, it just does not seem sustainable for Zillow to increase selling expenses by 237% when revenues only went up by 179% in two years.)
Real estate has always been about relationships.  For a company like Zillow that is willing to sever millions of valued relationships with their Realtor customer base, that incongruence will not end well with the consumers.  Even now, with Internet marketing so prominent, most successful Realtors I know still base most of their business on old-fashioned referrals and introductions.  Perhaps Zillow can still grow massively with those who need to advertise to grow their business, but with the commoditization of websites, successful Realtors will find cheaper alternatives.  That does not even consider the scenario where the real estate market cools and the once aggressively advertising Realtors find that results from Zillow were not as good as they hoped and cut back on those spending sharply.
For me, I would prefer to sit out of Zillow.
Update (7-9-15):  Apparently, the situation at Zillow is deteriorating even faster than I thought.  Just a month after my posting, Zillow's CFO jumped ship.  If anybody knows the extent of the financial disaster at Zillow, it would have to be the CFO.  Investors are heading for the door too.  If Zillow can't grow in the midst of the strongest housing market in decades, it's as good a short-sale candidate as any.
Update (8-4-15):  Less than 45 days from my initial posting, Zillow stock is down over 20% and short sellers can smell the chum in the water.  Sell-side analysts are piling on top of each other to post low price targets of $60 or even $40 a share for Zillow in the next 12 months.  Given the rapid deterioration in the growth prospects of the business and the generally disgruntled customer base of real estate agents, the downside trajectory suggests a price target of $25-40 in the next year.
With the earnings release today, the headline numbers looked great and Zillow stock shot up back to $80/share with a massive short squeeze.  The company shifted its growth focus on milking more out of each agent and actually decreased the number of agent customers.  While this may increase the net profitability, growth will be limited.  And with any slight downturn, the smaller pool of agents will increase the risk to revenues.  Ultimately, it pains me to see fellow agents forking over $2M a day to Zillow, which took our data from our MLS to steal our customer leads and then sells those leads back to us.
Update (8-5-15):  Looks like Wall Street analysts and investors agree with my assessment about the risks to growth for Zillow if they only focus on squeezing more out of a smaller pool of "crazy" agents.  Plus, what was the point of paying so much for Trulia if Zillow only wanted to keep a handful of profitable agents?  After briefly breaching $80/share at the open, it's already down 10% in the same day.  Look out below.