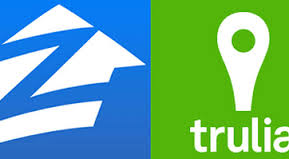 Despite all my criticisms about Zillow's potential, I'm still pleasantly surprised by occasional savvy moves.
http://seekingalpha.com/pr/14587776-zillow-group-announces-sale-of-market-leader-to-the-perseus-division-of-constellation-software
I discussed the horrible decision by MarketLeader to acquire ActiveRain, which was recently spun back out.  Then, Trulia bought up MarketLeader to make itself more marketable to Zillow.  Trulia paid an obscene sum of $355M for a poor performing business.  Now that Zillow swallowed up Trulia and is starting to recognize the dead weight that came along with Trulia, at least it has the clarity to dump MarketLeader while it can still recover some value.  Still, $23M for MarketLeader is a pathetic return on $355M in 2013 dollars.  Zillow would need to sell for close to $400M just to break even.  Oh well, it's flushing down $4B in value with Trulia anyways, so just another drop in the bucket.