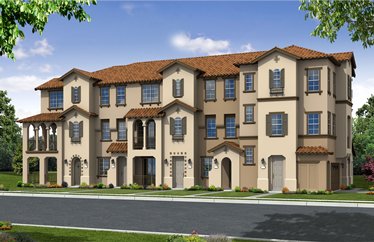 As mentioned in my previous blog posting, Pulte Homes is currently building a new townhouse community in the North San Jose region on a lot by Berryessa and 101.  Pulte has been one of the most prolific national builders in the Bay Area with multiple townhouse and single family construction projects in North San Jose and Santa Clara.
While its prices are near the high end for spec builders, I feel they're good values considering the quality of their construction.  And, even as many buyers during the boom days have been hosed along with everybody else, the quality of Pulte's construction has helped hold up resale prices, limiting price drops to about 10-15% compared to the more prevalent 20-30% drop that's often seen in KB projects.  (I also own KB homes, so the price drop could also be due to more location-specific factors.)
At the moment, the first 8 units of about 300 townhouses are being framed in the Pepper Lane project on Berryessa.  After moving literally mountains of dirt around, Pulte seems to be making good progress in the typically favorable weather of the San Jose summer.  The remaining lots appear to be near finished and ready for construction with a few initial roads being paved.
Based on their current progress, I estimate the model homes to be ready around November to December.  With the stock market swinging wildly, the end of the calendar year is not exactly the ideal time to introduce new homes from historical experience.  Or, maybe Pulte will be testing a repeat of this year's hot start in January.  I'll be there to see and wish them the best.