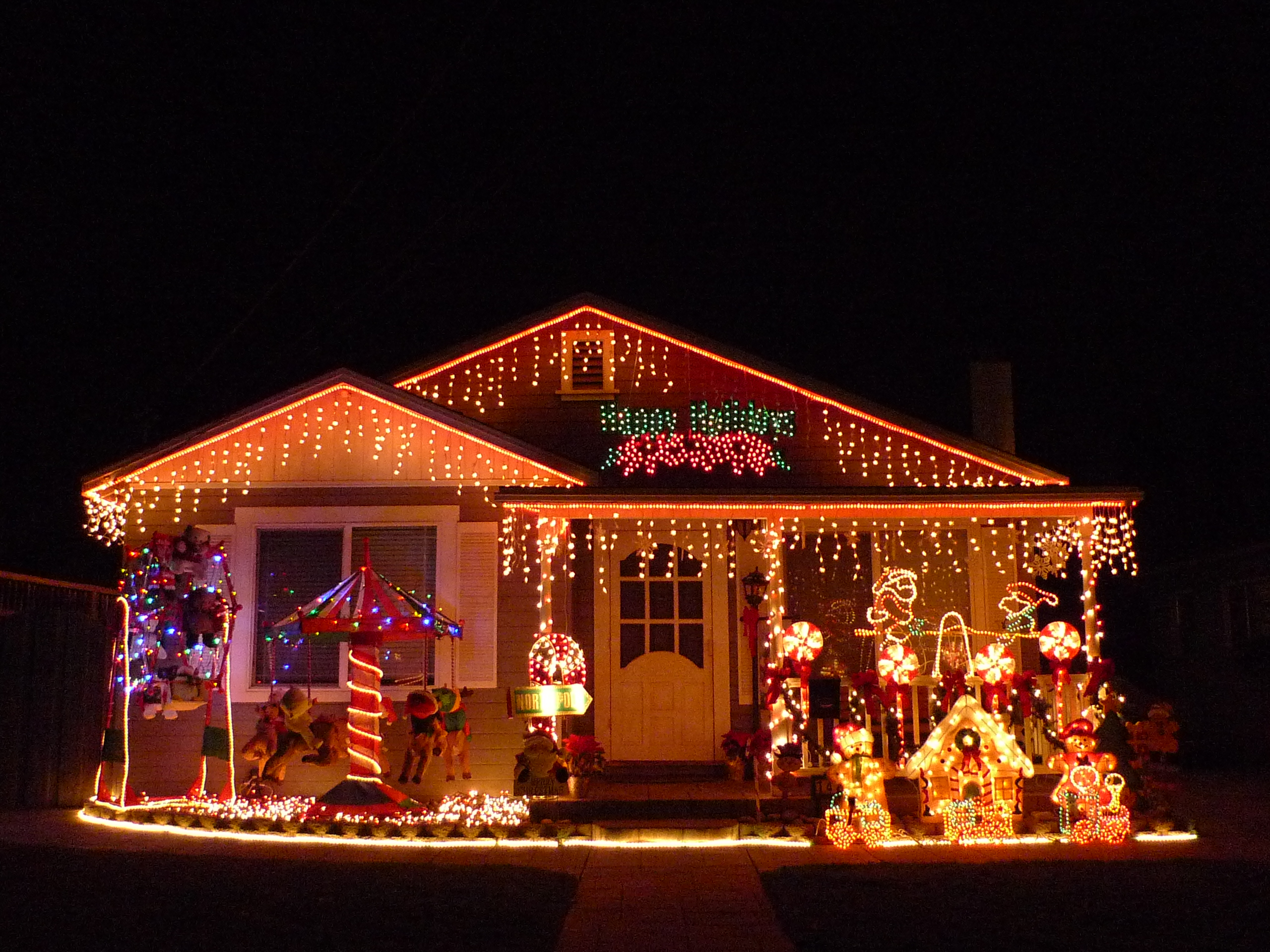 As we finish the last week of 2011 and usher in 2012, lingering questions about the up-coming year fill many with doubt and worry.  Our national economy continues to work through a long recovery process, with no clear end in sight.  Growth is marginal at best while we're seeing some modest improvements in the levels of employment, spending, and housing distress.
As for what we can expect for 2012, it's still anybody's guess.  There are many official indicators available offering conflicting results.  Along with pundits, we can endlessly debate their accuracy and predictive validity.  As a Realtor, I'm obviously most interested in housing-related trends, so I use a handy, real-world tool I call the Christmas Housing Indicator (CHI).
The Christmas Housing Indicator is based on tangible, local surveys of consumer confidence.  As reflected in the name itself, the CHI is specific to Christmas-displays for the month of December. While other religious holidays take place in the same month, those displays are not as readily assessable.  Basically, the CHI considers the quantity and complexity of Christmas lights and displays within a neighborhood.  The premise behind the CHI is based on a theory that such displays reflect the level of consumer confidence and outlook.
This indicator is distinct from the similarly named and more familiar Santa Claus rally used by Wall Street analysts.  While the idea of ending a year on a high note has a nice ring, that term is merely descriptive of a tendency for the stock markets to drift upwards in the weeks around Christmas.  It offers no predictive value in the on-coming year for stocks or anything else.
With the Christmas Housing Indicator, we believe that neighborhoods with lots of Christmas lights and displays, especially well-coordinated ones, are more stable and desirable.  In turn, housing prices in those neighborhoods are more likely to outperform those in other neighborhoods with few or no Christmas lights.  The reason this occurs is based on the trade-off involved in putting up Christmas lights.
Most obviously, it takes money to buy and run those lights.  Besides the time involved to set them up, dramatic displays often take years of steady accumulation and curating.  Less established neighborhoods typically have both less money and time.  As we've seen in the recent housing correction, it's those less established neighborhoods which tends to experience higher levels of housing distress.  Since those homeowners have been financially stressed by their recent home purchases, they're less inclined to put up Christmas lights.
On another level, there's a bit of positive peer effect that rolls out over time.  After the first homeowner puts up Christmas lights, the act breaks the ice and fellow homeowners follow with similar, often escalating displays in subsequent years.  So, as neighborhoods stabilize, up to 30-40% of homes would have Christmas lights, with a few homeowners putting up quite elaborate light shows.  All of this is a great reflection of pride of homeownership, a main contributor to housing value.  Check out a few we saw in the south Bay Area.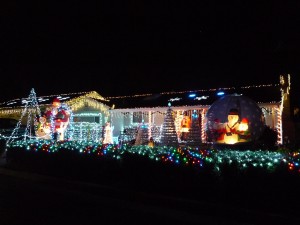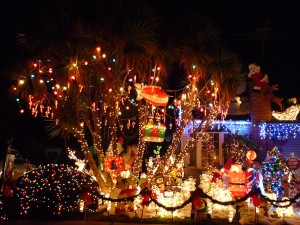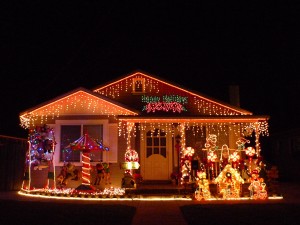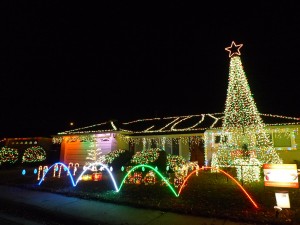 Since the accumulated Christmas lights and displays take up precious storage space, homeowners are more likely to make an investment in them if they intend to stay put and are confident they can afford the home for at least another few more years.  For those with a transient mindset or a tenuous financial situation, they would have less desire for such displays.  Barring any limiting factors from local restrictions, these neighborhoods tend to have fewer than 10% of homes with Christmas lights.
So, going forward each year, as long as the level of Christmas lights (or other comparable celebration lights) increases in a neighborhood, housing prices in that neighborhood are likely to climb, or at least do better than comparable neighborhoods.  The indicator doesn't work across neighborhoods, so it really makes the most sense for neighbors to get to know each other and collaborate within the neighborhood.
For this Christmas, I definitely had a sense that many neighborhoods around the south Bay Area have more Christmas lights than in the last few years.  Many put up quite impressive displays.  So, with the positive reading from this year's Christmas Housing Indicator, I'm hopeful for a rebound in housing prices in 2012, at least in the Bay Area.  Take a look around your own neighborhoods for your own local forecasts.