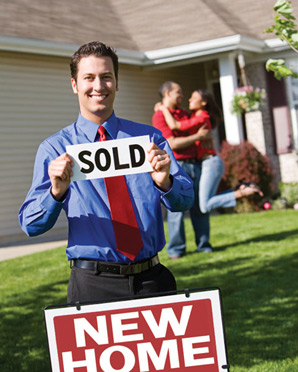 It's only March and 2012 is already looking like the rebound year for the Bay Area real estate market.  Many homebuyers sitting on the sidelines are diving into the market, often with fistfuls of cash from 3-5 years of hard saving.  Pockets of strong demand are showing up in the Bay Area, with buyers seeing intense competition and fighting over the current tight inventory with formidable new competitors.
To make sure you're prepared to succeed with your home purchase, you need to do these two things:
First, make an assessment of your personal finances and get your financing in order.  If possible, find a licensed financial advisor (available at Archers Homes) to help you understand your cash needs and long-term objectives.  Then, talk to a loan officer early and obtain a pre-approval letter with a direct lender.  Keep it current.  Long gone are the days when sellers would accept offers without accompanying proof of funds and financing.
Second, get yourself a good buyer's agent.  In the past, some frustrated buyers who had poor experiences during the boom days with inexperienced agents stayed away from all agents; they're doing themselves a disservice.  In today's competitive market environment, a skilled buyer's agent is your main competitive edge, helping you to navigate a rapidly shifting market place and giving you a fighting chance to get the home you want this year.
Here are some tips on what to look for in a good buyer's agent.
1.       An effective communicator:
One of the top complaints from buyers is a non-responsive agent, and deservedly so.  Real estate is a people business.  When it comes to winning deals, a buyer's agent needs excellent communication skills and responsiveness with all parties involved.  To save yourself headaches and frustration, find an agent who really speaks to you from the get-go.  This is not just about speaking the same language.  It means an agent who adapts to your communication style.  Whatever you preferred method of communication, be it a phone call, text message, email, video chat and what not, your real estate broker should be able to respond with a timely message, ideally within hours if not minutes.
2.       On top of the market trend and local data:
The real estate market is in flux and the recovery is highly localized.  The agent who is plugged-in can help you access the latest data and make the best decision.  At the introductory meeting, ask the prospective agent a few questions about trends in the local market.  Have the agent explain the rationale behind each trend, like school ratings, employment levels, mortgage rates, or home prices.  If he or she appears to know less than you, move on.
3.       Tuned into your needs and timelines:
Many buyers avoid getting an agent because they don't want to be pushed to buy anything.  Certainly, nobody should be pushed into anything.  A good agent should advise and guide you.  She should take the time to understand your needs and match you with a suitable property within your budget.
This relationship is a two-way street.  The buyer should do their part to be honest and communicate your needs and timelines.  Don't try to draw attention from agents by boasting that you are ready to buy now or want something much higher than your budget.  You will end up with what you've asked for — a pushy salesperson.
If you merely want to monitor the market and are not yet ready to buy, tell your agent so your agent won't rush you.  In a hot market, good property can come and go within days, so you need to tell your agent when you're ready to act decisively.
4.       Organized and attentive to details:
Thanks to all the new regulation created after last housing bubble burst, real estate business has a lot (and I mean a lot) of highly regulated paperwork — from the initial offer, to inspection reports, to endless disclosures, to closing statements from the title company and the lender.  Besides the sheer volume, time is of the essence.  All the paperwork have to be reviewed, completed, and reviewed according to a very tight schedule.  It can easily overwhelm any buyer and even novice agents.  A good agent can help you make sense of the myriad of documents and make sure each time-sensitive task is completed according to the contract terms.
On the road to real estate success, picking a buyer's agent is like shopping for a car.  You should always start your journey with a good one.
For the latest market insights for competing Silicon Valley in 2015, see our updated blog here.