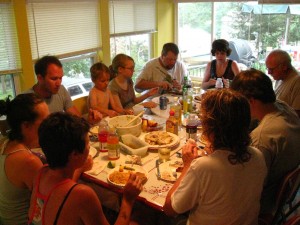 As summer comes to an end and we make a shift to colder weather, it is time to start thinking about the holidays. Thanksgiving is right around the corner, followed by Black Friday. That means holiday travel will be in full swing. Your relatives will soon be coming to your house to ruin your peace and quiet. Plus you and your spouse know that you will have to spend both time and money prepping the house. Before any distant friends or family members make a trip out to your home, make sure it is ready to impress!
Clean-Up!
I know that cleaning up seems like a given, and it is, but I wanted to provide clarity on specific things that should be cleaned for welcoming visitors into your home. First, make sure that any guests who come over have a clean place to sleep. Wash the sheets in your guest bedroom, vacuum, and clean out the probably cluttered closet. You should also make sure that you have a very clean and well-stocked bathroom for anyone staying with you. Pick up some extra toiletries in case your guests leave any behind!
Once you have a comfortable and clean area for your guests to relax while they are over, you can start thinking about other projects. In my opinion, this is the best time of the year to do a thorough "de-cluttering." What I mean by this is to go through your home and garage and identify everything that you no longer need. Over the course of a year we update a lot of our belongings, receive gifts and otherwise end up with junk around the house. Get rid of your old appliances, furniture or other assorted junk and you will be impressed by how great of an effect this has on the house. This also ensures you have storage space for all the new gear you will fill your garage with during the holiday season! As for the exterior of your home, you'll want to improve the curb appeal of your home before your guests arrive.
Get Your Repairs Done
Housework is never fun and is very easy to put off. With summer coming to an end and temperatures dropping, there is no better time to start marking off items on your checklist! Before anyone comes and stays at your place make sure to at least check the basics, such as the plumbing in the guest bathroom and squeaky door hinges. This may also be a great opportunity to think about some big picture home updates. Years of living in a home is bound to do some damage to your walls, it's unavoidable. Repainting your interior walls is a fantastic way to make your house feel newer, appear cleaner, and give your home value a long-term bump.
I know that this type of work seems tedious but it is worth it in the long run for both the value of your house and for your personal sanity. Taking care of the small things around your house early will ensure that your father-in-law doesn't bust out your tool box and show you how to take care of your house, which is simultaneously annoying and a little embarrassing.
Catch-up on Yard Work
A well-kept yard should be the first thing your invitees see when they pull up to your house. This is a chance to set the tone for how domesticated you are! Get up early on a weekend morning and go take care of the yard. Many lawns need to be reseeded and fertilized after the summer months end. Get this done before Halloween to avoid having relatives get to your house to find the yard literally covered in fecal matter.
Beyond the lawn, there are many other areas of the yard that are often overlooked. Make sure to trim your bushes, rake your leaves and pick the weeds before any one comes over. Taking good care of your yard is a fantastic way to invest in your house anyway, and you will be glad you did once you decide to hire a San Jose realtor and move on to your next home. The more things you take care of prior to the visit the better. You don't want to waste precious family time doing chores, so get it done early and impress your guests this holiday season!