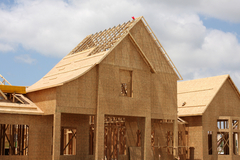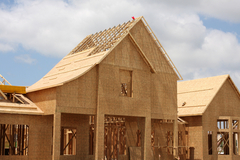 For many younger homebuyers, one of the most popular options is to purchase a brand new home directly from a builder.  You get the advantages of having a customized home built to suit your tastes, modern floor plans with high ceilings, minimal maintenance, and well-qualified neighbors.  Of course, there's a price for such quality, and it's generally between 5-10% more than an older home of 8-15 years with a bit of wear.  For many, that's a small price to pay and that price premium seems to be closing throughout the housing downturn.  Alternatively, you could buy an old fixer-upper to get a bit more space, but the time-consuming renovations (4-12 months) are usually not feasible for the typically busy professionals looking to buy for the first time.
How buyers often look for new homes:

One of the easiest ways is to pick up a slick new-homes magazine or checking out the websites of builders.  The builders advertise very prominently with attractive artist renderings of their homes.  Usually, they have helpful signs all around your desired neighborhoods to direct you to their new communities under construction.  Once you go and tour their models, they stand waiting to sign you up for a home on the spot.
What are the downsides of that approach? 
The reason the builders spend so much money and time to get buyers to visit them directly is to have more control over the transaction.  While the builders must have licensed real estate salespersons or brokers representing their products and must provide the required disclosures, they don't owe you a fiduciary duty to make sure you get the best deal.  Basically, the salespersons' job is to help their client, the builder, maximize their profits.  If they get you financed for a property with one of their preferred lenders, they've crossed their major hurdle towards their goal.
So, how should you go about looking for a new home?

Having purchased new homes myself and with my clients, I've learned the hard way that the best and safest approach to buying a home from a builder is to go with an experienced Realtor.  For many first time buyers, there's a belief that they can get a better deal if they negotiated directly with a builder, since the builder wouldn't have to pay the Realtor's commission.  Unfortunately, the reality is quite the opposite.  (While an inexperienced Realtor may not be successful in getting a better deal, at least you'll have somebody watch out for your interests at no expense to you.)
An experienced real estate broker, especially one who has already sold other units in a community, would know better what the bottomline would be for the builder.  She
would have knowledge of comparables and the sales history at the development.  And, most importantly, the realtor will have the ear of the builder, since the Realtor represents repeat business to the builder versus a 1-time sale for an unrepresented buyer.  Therefore, builders do not ever pass on the commission savings to the unrepresented buyer.  Not only that, builders do not have to offer any deals since they have the upper hand on market knowledge.
So, my recommendation is to always bring a Realtor along on your first visit if you're even modestly interested in a new development.  You'll have good advice at your side and can usually come away with a better deal.  Once you've registered yourself without a Realtor, then the builder makes a big self-serving leap to assume that you're going without representation.  Given the masses of documents to review, that's a daunting prospect for any home buyer.
Here's a sample of recent deals Archers Homes closed with local builders.
Santa Clara/Rivermark: 5% below asking with incentive package
Sunnyvale: 4-6% below asking with incentive package