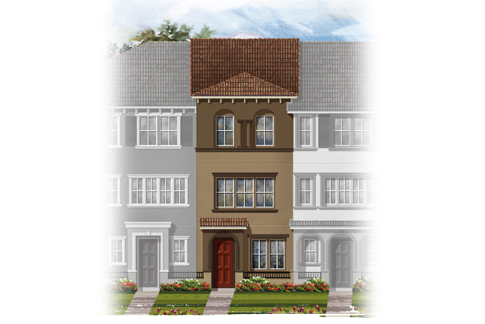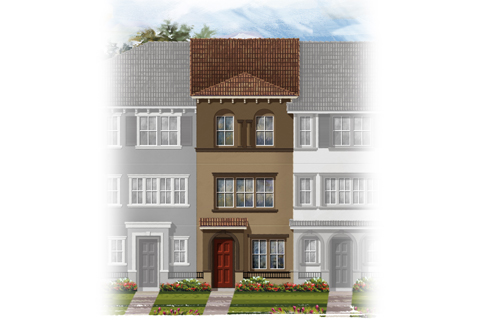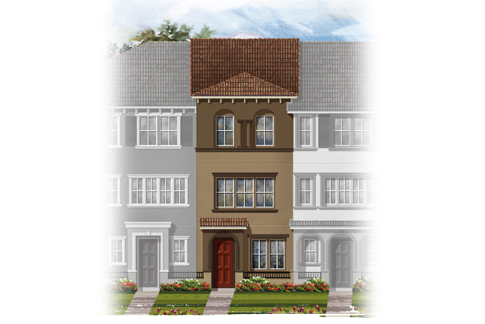 On one of the last remaining flag lots in Rivermark, KB Homes is building a small community of townhomes called Toscana. Tucked behind the recently sold-out Mission Place development on Agnew, this collection of 48 townhomes offers 3 spacious floor plans at some of the lowest price per sqft in Rivermark, even lower than older distressed units on the market. Not surprisingly, demand has been very hot. The first two phases of 24 townhomes sold out within weeks of their initial release.
Plans range from 1650 to 1910 sqft with 3 or 4 bedrooms. Base pricing is around the mid $500K to low $600K. While there aren't many guest parking spots available, at least all the units have 2-car garages. The smallest floor plan comes with a 2-car tandem and the others offer side-by-side garages.
These three-story townhouses have familiar floor plans with the main living area on the 2nd floor and bedrooms on the top floor. The layout is typical of dozens of others I've seen, but there are a few areas of inefficiency in the use of hallways that make the townhomes seem smaller than expected. There are a few options available to mitigate that.
On my tour of the model homes, I saw upscale finishes throughout, with solid slab counters, gleaming banisters, and substantial baseboards and mouldings. These upgrades really made the townhomes feel much nicer than many comparable developments. Still, from my past experience with buying and owning homes from KB Homes, the cost of the upgrades can quickly run the total purchase price significantly above the listed base price. So, choosing the right upgrades will definitely determine which homes get a good return on investment upon resale later.
At the moment, another phase is about to be released in the coming weeks. Completion of construction should be around late summer of 2012. Unfortunately for most buyers, there's a very daunting waitlist already in place, with twice as many interested buyers as there are townhomes remaining. In such a competitive situation, even getting the chance to purchase a home is tough, especially for buyers without representation. While this is not quite a return to the heady bubble days, having an experienced real estate broker from Archers Homes represent you is your best bet to get one of the Toscana townhomes at a fair price.