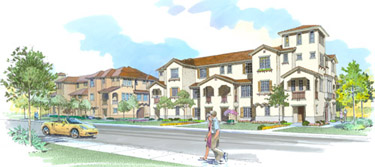 As we reach the end of a slow summer season, I'm still finding that quality homes are selling quite well and new construction in good locations has been very popular.  One of my favorite new townhome developments is the Encinal by Classic Communities in Sunnyvale between 237 and 101.  The entire community is positioned on a quiet lot adjoined by several new townhome developments.  It's a small grouping of just 48 townhomes that broke ground at the beginning of this year.  At this point, it's mostly sold out with fewer than a dozen homes remaining.
Reflecting the thoughtfulness of the developer, here are some of the features that my clients and I particularly like about this development:
Ample parking — All the units have 2-car garages, some tandem and some side-by-side.  Plus, there are 50 guest parking spots available.  With only 48 units in the community, that's an extremely generous ratio and makes for happy guests.
True townhome construction — Unlike similar looking developments which offer townhouse-style condos stacked together, the townhomes at the Encinal are built as true stand-alone units, with air-gaps separating independent walls and floors between the units.  So, even though you're close to your neighbors, there's no direct connection between the units to transmit noise.  Plus, there's no neighbor above or below you and you get a solid concrete slab between floors to provide an additional measure of fire-safety.
Full featured — To make the units even more attractive values, the builder is out-fitting many of them with stainless steel appliances as standard features.  Plus, you get a very slick digital central environmental control system.  That definitely appeals to my geeky side.
Right now, the remaining units are selling fast as the builder is eager to close out the development by the end of the year.  While there are some cheaper units being built around Sunnyvale, none of those offer the above features, making the Encinal a compelling value for those who prefer a more traditional home living experience.  With construction about to complete on the last building, the time for customization is quickly running out.  If you're interested in learning more about this community and how you can get a great deal as a first-time home buyer, please contact me.