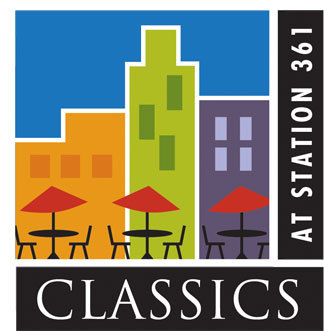 Just blocks away from Castro Street in Mountain View, Classic Communities' newest development project, Station 361, is a huge hit with new home buyers.  Located across from a CalTrain station on West Evelyn Avenue, Station 361 offers an exciting collection of new townhomes and highly desired single family residences.
Coming in two phases, the site planners at Station 361 have smartly lined up a tight row of townhomes right along the CalTrain track, creating an effective sound wall and sight-line separation for the more upscale single family residences.
The townhomes come in two floor plans of about 1700 sqft. They offer 3 bedrooms on three levels but come with side-by-side 2 car garages, making them similar to the just completed development at Mondrian just down the street.  At a starting price point of about $800K, these townhomes are very competitively priced for their Mountain View location.
The single family homes offer much more variety in floor plans.  They go from a quaint 2 bedroom cottage with less than 1100 sqft and a 1 car garage all the way up to a substantial 2400 sqft, 4 bedroom executive home with a loft and courtyard.  Since the single family residences have larger lots and better locations than the townhomes, their prices are commensurately higher, with the smallest home starting at just above $1M and the largest in the $1.5M range.
Consistent with the premium standard features of other Classics communities, the homes at Station 361 come with hardwood flooring, stainless steel appliances and granite countertop as standard features in the kitchen and includes hardwood cabinetry throughout.  Combined with all the other standard features, the homes are a great value for the location.
And, you don't have to take my word for it.  The homes at Station 361 are so highly sought after that buyer aggressiveness reached unheard of levels, even more than during the heights of the last bubble peak.  The demand surprised even the builders as almost all of the 20+ homes in the first half of the project sold out within weeks, months ahead of schedule.  There may be something of a tech IPO effect or just a rush of cash buyers.
At this point, waiting lists are building up once again as buyers anxiously wait for release of the remaining homes, which is likely to be at the end of the year or even early 2013.  With such pent up demand, the next phase will likely sell out very fast.
Update 10-8-12:  There are currently 2 remaining units available.
Update 10-16-12:  Two model homes were released.  There are currently 3 remaining units available, including a single family home for under $900K.
If you'd like to find out more about these units or are interested in the next release at this community in 2013, feel free to call or email me.