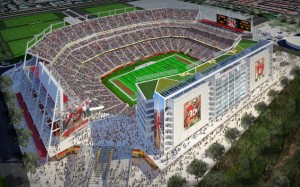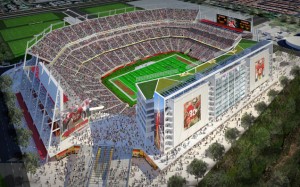 Last week, the San Francisco 49ers stadium in Santa Clara has officially been named Levi's Stadium.  This is another step closer for the San Francisco 49ers to take residence in Santa Clara.  When the San Francisco 49ers made it into the Super Bowl this February, it woke the South Bay from sports-apathy into football fanatics.  While the 49ers did not win this time, the game brought a ton of new excitement to the new 49ers stadium in Santa Clara.
While still under construction, the stadium has become a fixture in the Silicon Valley skyline, appearing prominently as a crown of lights from higher vantage points around the South Bay.  Now the billion dollar question is how the new stadium will affect Santa Clara real estate prices?  Most real estate agents I've come across have been quite negative, citing additional noise and traffic as major impairments.  But I strongly differ.
Real estate is all about location.  Location can be the physical location in geography and all the environmental characteristics associated. Location also refers to availability of facilities in the immediate neighborhood that contribute to the well-being of the residents.  School district quality is the most familiar.  Proximity to restaurants and shops that enrich the lifestyles of residents is becoming more important as younger buyers move into the area.  A gleaming new football stadium will greatly encourage the establishment of new restaurants and bars nearby.
All the new development and features will increase property values, as evidenced by the popularity of new condos and townhomes around Santana Row and downtown Mountain View.  Besides, there is a brand name factor.  It is especially true for the City of Santa Clara, which does not host many major corporations or award winning schools.  Association with major sports team brings recognition and reputation.
If the critics are not convinced, the best example is AT&T Park.  AT&T Park sparked the revitalization of the China Basin district.  What was once a deserted industrial area has now turned into a much desired residential neighborhood of luxury high-rise condos and trendy restaurants.  That is the gem of San Francisco and envy of every city.
The City of Santa Clara is in final stages of getting the hosting rights for Super Bowl 2016.  That will put the City of Santa Clara, and entire larger area under an international spotlight for a good month and forever put Santa Clara on the national radar.  As a San Jose resident, I feel proud as a neighbor; as a real estate broker, I am giving it a Buy.
Update 5/22/13:  We got it!  Santa Clara will be hosting Super Bowl L in 2016 at the new Levi's Stadium.  I'm super excited.