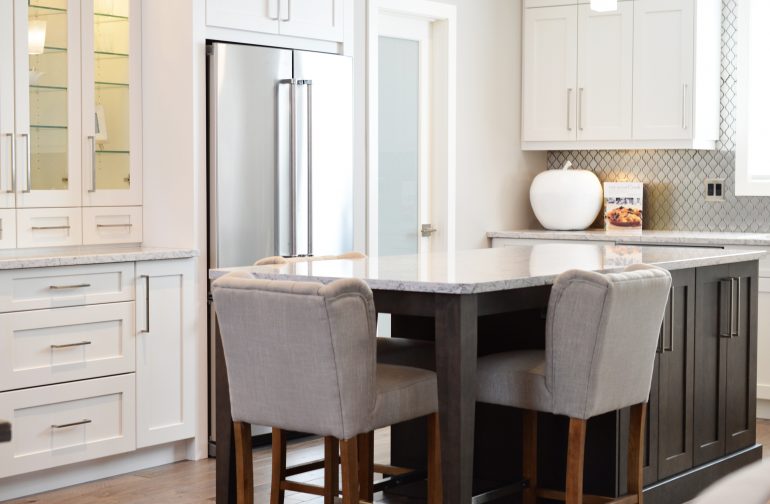 It is that time of year- 2017 is drawing to a close, and as we welcome in the new year creative resolutions begin to take form. As any HGTV fan can tell you, upping your home design game is a fantastic resolution- consider, though, a focus on a fresh kitchen. Creating a positive atmosphere in your kitchen can refresh your routine and bring new energy to the new year. Here are a few trends, from kitchen classics to new innovations, to keep an eye on as you revamp your home design for the new year!
The first thing that strikes you upon entering any room is the colors that are presented. For your kitchen, consider cool neutral tones to create the base of your color scheme, especially a soft grey that pairs well with other neutrals as well as pops of color. To liven up the space, consider some poppy red, lemon yellow or dusty purple, all beautiful compliments to achieve a creative balance in your kitchen. In terms of wood colors, the stain you choose to compliment your color scheme makes all the difference. For the house with a classic kitchen, a darker-stained oak, or a walnut base can create a deeper, warm atmosphere, sure to pair well with simple pieces and time-tested designs. Apartments wit more modern and utility-focused designs can use lighter contemporary woods, or a pop of cherry to create an energetic and stylish look that reflects a clean look with little effort.
Once you get past initial color impressions, design details like form and structure become apparent, and there are a plethora of appealing aesthetics to choose from. Minimalist, modern designs are very prominent at the moment, replete with bold shapes, clean corners, and efficient workups for maximum utility. From these contemporary cabinets to the clean and simple lines of this kitchen island, there is an abundance of inspiration for modeling a sleek kitchen space. And speaking of kitchen Islands, they are having a big moment in the present day and are sure to continue into 2018. Single-level islands, kept at the same height as the neighboring countertops, have become a big trend and effortlessly flow into the refreshing aesthetic so many are looking to achieve. It is easy to see why, as they bring a clean, open feeling for small apartment kitchens, and bring an element of modernity to the most classic of home kitchens. The modern look associated with single-level islands speaks to a larger trend on the whole, of open space and uncluttered kitchen layouts. Less is more with minimalism, and sleek utility say a lot more these days than bigger features with grandiose designs.
Of course, the best way to achieve the quality integral to an open design is with technological innovations. Integrating your kitchen appliances with the structure of the kitchen is a simple and groundbreaking way of freeing up space to create a less stressful kitchen area. Look no further than these futuristic spaces for ideas on how to do so. It can be as simple as removing the doors from cabinets to create open shelving, or as elaborate as a microwave seamlessly placed within the wall space. Narrow fridges, cabinet-like in appearance, paneled dishwashers that pop out of the woodwork- the only limits placed on the innovation possible for a minimalist kitchen layout is your own imagination and creativity!
Lighting sets the tone of any room you enter, and the lighting you select for your kitchen is essential for creating the perfect tone. For fans of classic designs, no worries- the hanging light you are used to is still very much relevant. In fact, a hanging cord can give a little retro twist. However, very popular is a twist on the classic hanging light, featuring simple, deconstructed geometric shapes around an exposed bulb. These designs combine classic hanging light bulbs with modern concepts, to create a playful and functional tone absolutely perfect for your kitchen experience.
To cover the most ground in discussing kitchen design, we must now come to the aspect that literally covers the most ground- that is, the flooring. While most of the designs we have covered have been emphasizing simplicity and clean aesthetics, the biggest trends in kitchen floors have been to flip the classic simple tiles and unnoticable patterns. Consider renovating your cooking space with a fresh floor pattern, perhaps using it to integrate a splash of color where your neutral, smooth surfaced designs may fall short. Also consider the appeal of a geometric floor design, as it compliments the open geometric light fixtures and provides a simple yet attention-grabbing divergence from the norm to make your kitchen stand out.
Overall, the upcoming kitchen trends center around creating a calming and efficient space for yourself. Neutrals, geometric patterns, and clean lines define the rising trends and provide an ample selection of ideas and inspiration for you to go forth and design your dream kitchen!