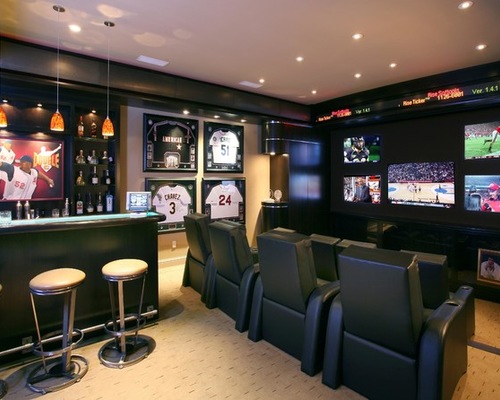 1. A Music Tribute Den
We might not all have gold and platinum records hanging on our wall like TJ Chapman, but we can all appreciate the dark wood, white walls, and contrasting framed art. It's a simple design that could make any décor pop.
2. Bring the Sports Bar to You
Why go out to an expensive sports bar when you can scarf down wings and guzzle beer from your own couch? Add a couple TVs and you have your own in-house Buffalo Wild Wings.
https://www.instagram.com/p/BgaIRKeFK7W/
3. The Ultimate Inspiration Room
This cyclist designed an incredible trophy room and office. Draw inspiration from your awards with a themed man cave designed to get you in the zone.
4. Locked and Loaded
If you don't have any kids in the house, this is the ultimate way to showcase your guns and gear. With a nice matte black wall, the man cave looks sleek and tactical. It's a great way for gun hobbyists to show off their collection.
5. A Big Garage
Car enthusiasts can appreciate a massive garage. Whether you have a Corvette Z06 or an SUV, you can use your cars as a center piece in your car themed man cave.
https://www.instagram.com/p/BdkoGqHn3wS/
6. Spark Your Creativity with Art
Add splashes of color to white walls with abstract art. Pops of color make any man cave look that much better, and you'll be sure to spark your creativity in new ways.
7. Go Vintage
Sometimes you need to go old school. A vintage theme is a classic look that allows you to get creative with various knickknacks and décor. Wood can be a great addition to the elements of your design, and makes any vintage decorations look great.
8. A Music Studio in Your Home
Store all your music gear and MIDI keyboards in your man cave music room. Just make sure you don't have any neighbors who will complain when you crank the volume.
9. The #1 Fan Room
Tribute your man-cave to your favorite team for a truly immersive sports experience. Why go to a home game if you can bring the excitement and energy to your man cave?
10. The Game Room
Setup the ultimate video game themed room where you can go head to head with friends and make every night a game night.
https://www.instagram.com/p/BhlxegClcSN/