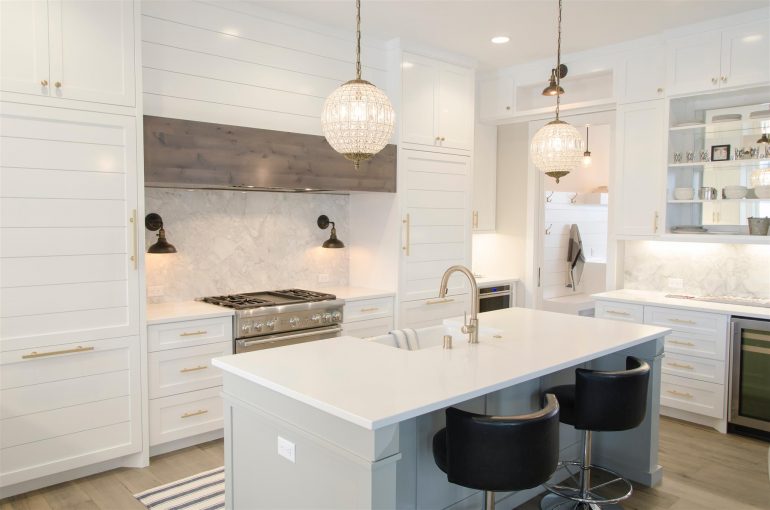 Photo by Aaron Huber on Unsplash
When you're making upgrades to a house, it's easy to focus much of your time and resources on cleaning up the exterior, paint colors, knocking down some walls, installing recessed lighting and ripping up shag carpet. Too many people, however, forget how important it is to upgrade their kitchens. Remodeling's latest "Cost Vs Value" report event found that, depending on your region, a kitchen remodel can net you as much as a 59 percent return on investment. This doesn't mean you should go about sinking thousands into an expensive remodeling and assume you'll get a massive return – in fact, you should be even more cautious and thrifty in this area because it really doesn't take much to upgrade a kitchen in modest ways to get that stellar return you're hoping for.
In this guide, we'll help usher you through kitchen upgrades so you're in the know on the five best moves you should make to bolster your return on investment.
1.Appliances
Appliances, like refrigerator units, range hoods, cooktops, ovens, dishwashers and even sinks, are the most visible parts of the kitchen and the most used. This area is where you'll want to set a hard budget, as items can get fairly expensive and you also have to consider labor costs, from delivery to installation.
For purchasing refrigerators and freezers, look at the compressor and the configuration. A dual-compressor costs more, but allows you to keep food fresher for long, a bragging point when it comes times to sell. When planning configuration, make sure you're cognizant of trends. Right now, french-door models with the refrigerator on top and the freezer on the bottom are popular. Range hoods aren't always necessary, and will depend on what kind of cooktop you have. Cooktop choices will depend on the kind of hook-up you have already in-place: gas, electric, or induction, with electric being one of the more popular trends for mainstream homebuyers.
Don't worry about small appliances like microwaves or toaster ovens. People usually either have their own, especially since they're inexpensive items.
2.Lighting
It's easy to overlook kitchen lighting, but putting some consideration into lighting fixtures and how much natural light flows into the windows can be a key selling point for some buyers. You'll first need to evaluate if there's any external factors (like a tree) blocking more light from coming in from the windows. People have a preference for natural lighting, so feed that preference. From there, you can discuss which fixtures would be best (chandelier, track lighting, recessed) and where to put them.
To increase the perceived lighting, give your walls a paint refresh with gray or white accents. Lighter paint colors will reflect the natural light, instead of absorbing it. You can also go the extra mile and install under-cabinet lighting to give the kitchen an even more detailed, bright, and appealing feel.
3.Flooring
To tile or to hardwood, that is the question.
For this upgrade, you might leave what's already there, with some minor upgrades, sanding, deep cleaning, and molding work. Or, you could switch it up. Tiling is a more popular choice than hardwood because of its low cost and the range of options tiles come in.
Tiling doesn't end at the floor. When considering tiling, also think about adding a backsplash to the cooking space to complement or contrast with both the flooring and the cabinetry.
4.Cabinets
Cabinet choices are among the most difficult to make in kitchens. They're dependent of so many factors, and you also have to consider which hardware (knobs, handles and pulls) you'll need to purchase and install as well. As you should with flooring and countertops as well, when selecting cabinetry, try to play it safe and make a fairly neutral choice here while still ensuring the cabinets fit in well with the rest of the kitchen.
5.Countertops
The most practical and relied upon parts of a kitchen, countertops have the ability to impress time after time. The key to boosting your return on investment when it comes to countertops, what's important isn't the color or material as much as the installation. Too many countertops, especially granite ones, are sealed poorly and have to be redone months later. So make sure the installation is done professionally and that the countertop isn't easily cracked. Here again, you'll want to err on the side of neutrality or theme when selecting new countertops.
Don't forget to clean up!
After you've finished upgrading your kitchen, don't forget you'll have to get rid of all the excess materials that come with major home renovation projects. This aspect of renovating should always be factored into your budget. Talk to contractors and laborers to see what can be reused and recycled, and where you could go to dispose of certain items.