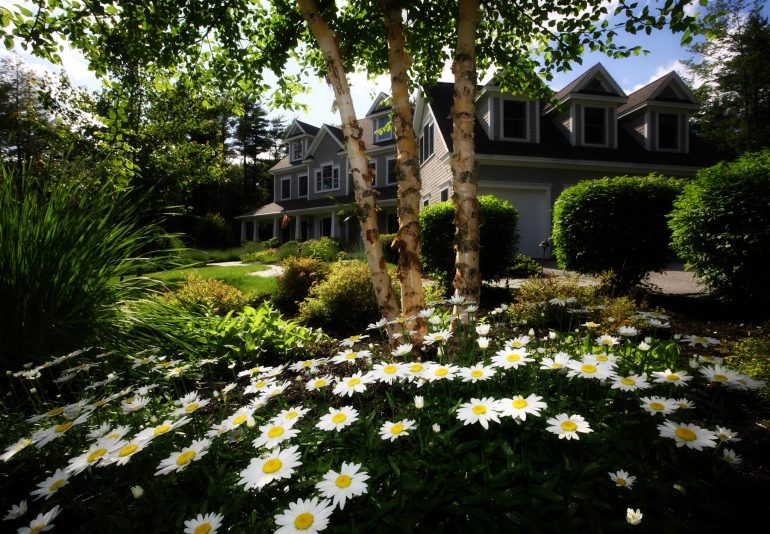 Photo by Thirsty Turf Irrigation on Unsplash
Spring is here! Time to improve your home's curb appeal. Here are five updates you can make to the exterior of your home this spring that will easily have your house looking the best on the block. Don't let the inspiration stop here though! Keep finding ideas to improve your home's curb appeal and increase it's value.
Restore and Repair
Not sure where to start? The best way to tackle home updates is to start with what's already there. Take a look at your tools and make sure you have everything you need to fill in cracks, caulk window frames, remove cobwebs, touch up paint and re-stain, and maintain your garden. Take some time to toss expired pesticides and old paint, and remove any broken or rusted tools. Then, once you've taken proper inventory, head to the hardware store to restock. You can also rent larger tools and appliances, which is helpful if you don't have extra money to spend or you don't have the storage space. Power washers are great rental items, and super important if you plan on re-painting. They are also really helpful for getting rid of moss, dirt, and grime that may have built up on your patio and driveway over the winter. Speaking of build-up, clean your gutters! This can prevent expensive repairs down the road.
Glorify Your Garden
Before you plant anything new, make sure you take care of any dead vegetation and tackle the weeds. That way, you'll be giving both yourself and your garden a fresh start. Check the labels of any weed killer you use beforehand to ensure that it's biodegradable and non-toxic to animals. When you're ready to plant, head over to your local gardening store (or the consult the internet) to check out what and when to plant this season. Professionals can also tell you what you will need to prune, and if it's a good time to plant new bulbs. While you're at it, pick up some new planters (or make planters yourself), or go the extra mile and build some new flower beds! Put together an herb garden, and add some veggies to the mix. And, if flowers are your jam, plant beds with both annuals and perennials—this will keep your beds alive all year long, with minimal upkeep. If you don't have a space for a garden. Consider giving your lawn a refresh by adding new grass, curbing around the edges, or surrounding trees. Whatever you decide, make sure to dispose of your lawn materials properly. It's best to have a junk removal service pick it up, so there isn't any additional hard work beyond getting the yard cleaned up.
Door Décor and Window Whimsy
Your doors and windows are the features that make your house inviting, so give them a makeover! Repair your doorbell if needed, or replace it with a new one. If doorbells aren't your style, consider getting a knocker. Shine your doorknobs and hinges, or replace to add new flair. Choose a fun knew color for your door that fits both your home and your style. Don't be afraid to be bold with your color choices, but ensure that whatever paint you choose doesn't clash with the colors of your walls. You can even go a bit further by using the same color paint on your window shutters. If you choose not to change the color, make sure you touch up any spots that need attention. Window boxes are another great way to add color to your home if you don't want to update paint colors. Flowers and plants will add life and color to your exterior and are easily maintained.
A Paint Pick-Me-Up
Go big and paint your home! If you plan to change the color of the exterior, be sure to check out your neighborhood codes to ensure you aren't restricted on your color choice. Before you paint, sweep any walls, windows, fences, and furniture that you intend to modify to remove spider webs (power washing is a great way to finish the job). Brick walls can be dated, so consider painting over them with grey, beige, or other subtle tones. Painting lawn furniture and picnic tables bright, summer colors can add a fun contrast to your home exterior, especially if you don't have colored doors or window frames. You can also sand and re-stain any exposed wood, such as fencing, porch stairs, patio furniture, and awnings.
Accent and Accessorize
Your outdoor equipment, decorations, and furniture make up an essential part of your home exterior, so you'll want to make sure that they are well maintained. You'll want your patio or outdoor space to be warm and inviting—make it as comfortable as possible! Add attractive light fixtures, fans, and furniture with bright cushions so that you can enjoy your space. Natural elements can make any living space serene, so hanging plants and small water features are nice additions as well. Finally, spice up your mailbox! Consider painting it a bright color, or decorating it as a family project. Just remember to avoid clashing colors and clutter so that you can enjoy the outdoors from home.